ANKERPLEX®
Keeping the position
Modern high-performance folding anchor.
FAST UNFOLDING WITHOUT TOOLS
IDEAL AS A MAIN ANCHOR, KEDGE OR SPARE ANCHOR
HIGH HOLDING POWER
INSTANT SETTING
GREAT RESETTING CAPABILITY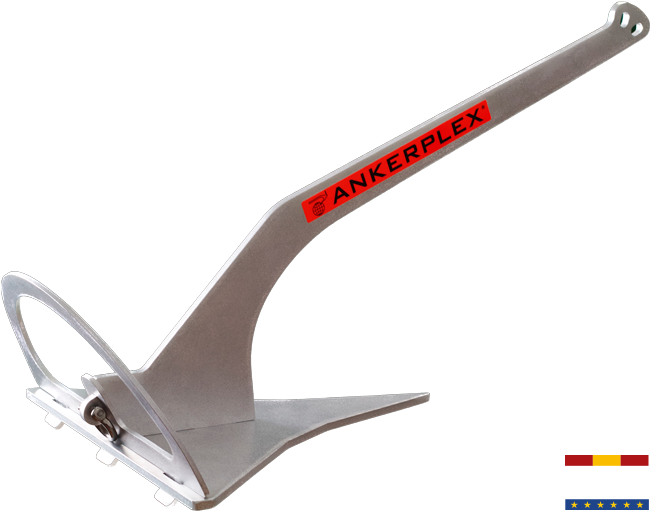 ANKERPLEX®
the importance of a good anchor
A large part of boat and yacht users spend most of their time on board staying anchored on beaches or sheltered coves.
Experienced sailors preferably choose a new generation anchor model and always carry at least one as a kedge or spare on board.
Specialists agree on always carrying on board a second anchor, either as Kedge, Storm Anchor, or Spare Anchor.
01.
High holding power
ANKERPLEX® is a modern anchor with high holding power (HHP), with instant setting and great resetting capability in wind or tide changes.
02.
Easy to use onboard
ANKERPLEX® allows it to be stowed on board effectively, taking up little space thanks to its unique flat design, and at the same time it can be unfolded very quickly when necessary.
03.
Without tools
ANKERPLEX® can go from its stowage to operational mode in record time, without the intervention of any tools, by means of an amazingly simple and error-free manual assembly.
Sailing with family makes us more responsible and demanding when choosing and assessing our safety equipment on board.
We will be happy to answer your questions and suggestions.
For safe and responsible navigation
Buy now your ANKERPLEX® anchor and sail safely.
Trust ANKERPLEX® for your safety equipment on board as many have already done.